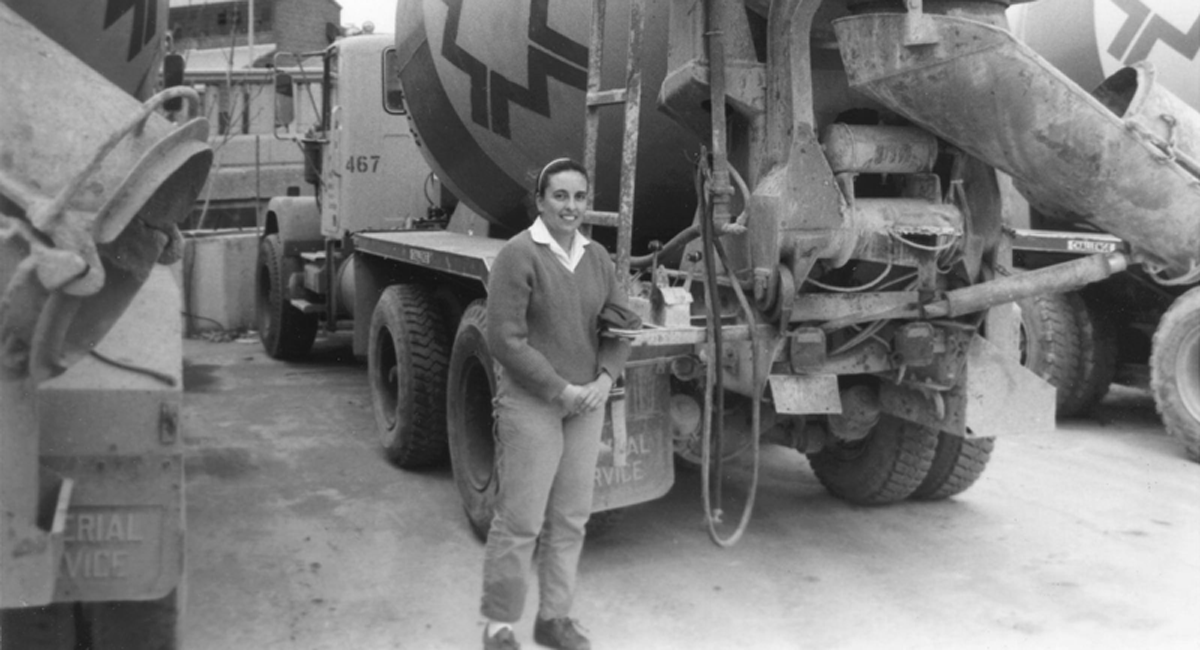 The 1980's in IBT History: Maria Brandon of Local 786 in Elmhurst, Illinois stands by the heavy duty equipment she works with every day.
1980
Freight industry membership dropping.
Organizing campaign for Wiley Office and Capitol Waste. Local 916 will lose by tie vote in Wiley Office election.
Local 916 withdraws from Capitol Waste and RW Harmon organizing efforts.
Construction begins on non-union mine in Elkhart.
Teamsters Local 21 in Adams County will merge with Local 688. The jurisdiction of construction in Adams County is assigned to Teamsters 916.
Local membership is made up of 21% state, county, and city employees.
The other 79% is beer, bread, soda, freight, warehouse, supply houses, plumbing and heating, automotive, moving storage.
Local 916 boycotts Shell Oil because of the non-union mine in Elkhart, which is a a subsidiary of Shell.
Attempt is made to organize at Blue Cross Blue Shield.
1981
Freight industry slows down and lay offs occur across Illinois.
Membership slips from 3000 to 2400 members.
Commercial Lovelace Freight closes.
Goff Linen Services brings in 5 new members.
Election scheduled for 27 maintenance people at White Oaks Mall.
Local 916 learns the federal government bring in Cuban workers from Arkansas to work at the Lincoln state school.
1982
Negotiations are difficult because of the economy.
Organizing in soft drink industry and election for Pepsi plant in Quincy ends in defeat – 40 to 15.
Local 916 institutes a self-funded death benefit of $1000.00. Prior to that members had been paying a per capita fee for death benefits; this was considered a great savings.
McBrides Express has a 23-week strike.
1983
Orscheln Bros. truck line shuts down.
Don Robinson is hired as an organizer to work on organizing specifically in the state, county and city employees.
Organizing begins for the ambulance companies and Sangamon County correctional officers.
August 17 – Local 715, a state professional employees local with approximately 500 members, merges with Local 916, due to Local 715's financial insolvency.
December 12 – After the merger of Local 715 into Local 916, the name was changed to "General Teamsters Professional Technical Employees," which remains today.
1984
The construction industry picks up with the building of a super structure bridge in the Quincy area.
Local 916 loses the RW Harmon bus election to the laborers.
ABF begins the construction of a new 100-door break bulk terminal in Springfield.
Mcbrides Express goes out of business.
Orscheln Brothers Trucking goes out of business.
Barker Lubin lumber yard and ready mix goes up for sale.
Certified Equipment is out on strike over wages.
Wage cuts are occurring nationwide and contracts become harder to negotiate.
Transcon Freight files for a change of operation.
Organizer Don Robinson is laid off, Joint Council 65 assigns Gary Sullivan to local 916 to help organize in public sector.
New prisons are constructed in Jacksonville and Lincoln, boosting area construction jobs. Pepsi-Cola shuts down the bottling plant and moves it to Quincy.
Fair Share under collective bargaining becomes law.
Byron "Babe" Fitch retires, Gary Sullivan is appointed to fill his term.
14 of the 24 members on strike against Certified Equipment remain on the picket line, marking 10 months of being on a picket line daily without a pay check and receiving government surplus food.
Organizing begins at the State Treasurer's office, CWLP lake guards and State of IL pilots. Amendment of bylaws.
1985
January – ABF announces that its new terminal is due to open with at least 200 road drivers by the end of the year. The addition of 200 drivers as members is a much needed shot in the arm for Local 916.
March – Local 916 loses Brinks drivers (15) due to a ruling by the government that armored car drivers cannot affiliate with existing unions and must form their own.
Coca-Cola plant is sold.
March – Third reading of amendment to freeze construction dues at $27.50 is passed.
April – Strike benefits are cut off for Certified Equipment strikers. Strike began in January of 1984. The company is sold and the strike ends.
AFSCME unsuccessfully attempts an election run off for Local 916 Pro Techs. Election filed for 14 security guards at CWLP. The election is won. Vendor for ABF Freight, Dean Large, is organized with eight (8) new members.
Local 916 becomes certified at Logan County Highway Department.
September – Local 916 and Joint Council 65 endorse Jim Thompson for re-election as Governor.
November – Local 916 begins an organizing campaign for Adams County Highway Department.
December – Initiation fee for Coca Cola plant part time employees is waived.
1986
Jenkinson grocer closes, Local 916 loses seven members.
New ruling on federal jobs sets "time and a half" pay after 40 hours in a week instead of after 8 hours in a day.
May – Election for representation of State Treasurer's Office employees is between Local 916 and IFT.
Wholesale beer negotiations in Illinois prove difficult. Peoria takes a $2 cut, and Decatur takes a 3-year wage freeze.
July – Al Stevens retires and Albert Boyd is appointed to fill the unexpired term of Vice President.
September – Mike Stout is hired to work on increasing Pro Tech membership.
September – Jerry Banning announces that he will retire on October 11, 1986.
Menard County highway department is organized.
Coke puts an hourly rate in effect for drivers.
1987

The officers elected after Banning retires take office in January. They are:
Gary Sullivan, President
Al Boyd, Vice President
Glynn Crossin, Secretary Treasurer
Keith Points, Recording Secretary
Charlie Hubbs, Trustee
Ed Six, Trustee
Earl Koch

February – Local 916 forms DRIVE chapter with drawings of $100 every month.
Don Weeks is hired as a Business Agent.
Champaign Sanitary District is organized.
First annual Pro-Tech seminar is established.
Employees of Adams County are organized.
City Street decertifies and joins AFSCME after 20 years with Local 916.
September – Local 916 Credit Union is chartered.
1988
Construction industry picks up steam, benefiting Local 916 employees at Freesons and Valley Cullinan.
Earl Schieb is organized. Superior Ambulance is organized.
Local 916 receives voluntary recognition by the State of Illinois Treasurer's Office.
Local 916 begins organizing the Illinois Comptroller's Office and the Illinois Attorney General's Office.
Logan County Sheriff's Department is organized.
First annual Steward's workshop is held.
August – The Local discontinues paying Steward's dues.
IBT president is William McCarthy.
Power shovel operators are added to IDOT maintenance contract.
1989
Local 916 wins the election to represent Sangamon State University police.
February – Ed Six retires and Mike Stout is appointed to fill unexpired term.
October – All Local 916 incumbent officers are reelected.