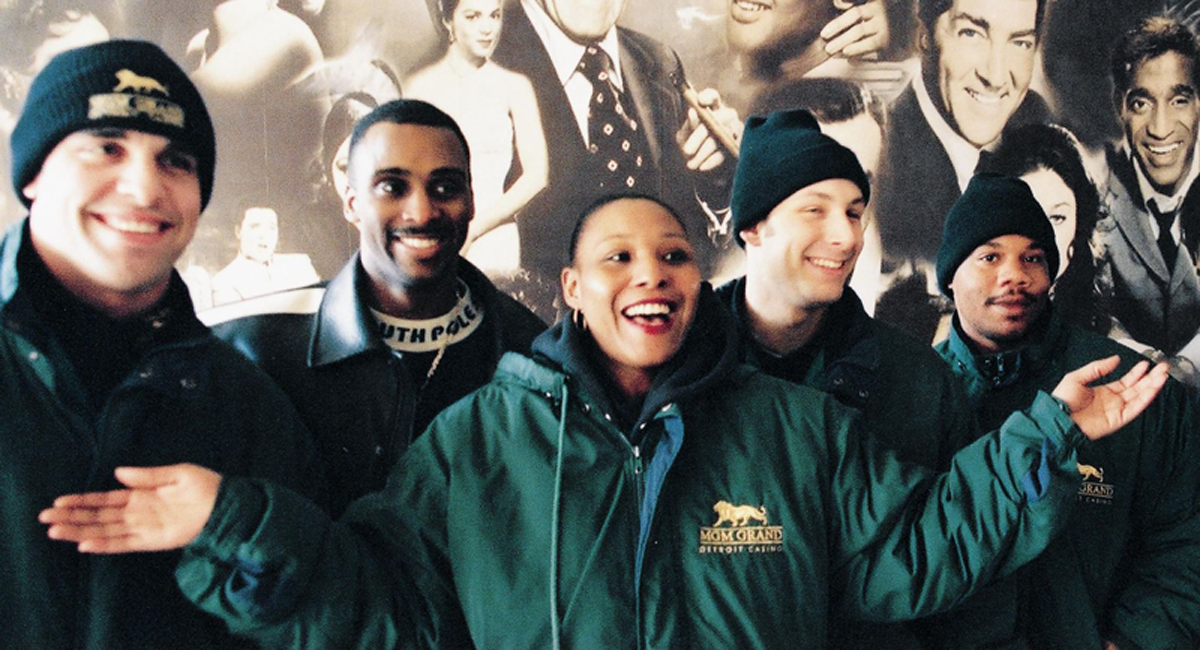 2000 in IBT History: Casino parking attendants select Teamsters representation in Detroit.
2000
The Illinois Attorney General's Child Support Enforcement Unit is organized bringing 36 members to Local 916.
Local 916 begins a scholarship fund for the children, step-children, grandchildren, and step-grandchildren of active members.
Esther Sparks hired as the Office Manager after 20 years as a legal secretary.
Drivers from American Linen approach Local 916 about organizing. The election is successful and brings 6 new drivers into the Laundry Division.
David Rush is hired as a business agent to cover the industries of construction, freight, beer and soft drink. Rush had previously been working for ABF Freight and USF Holland for over 15 years.
The 2nd Annual Membership Appreciation Day is held.
The first Professional Technical Conference is held in Elgin, Illinois.
A large rally is held at the Illinois Statehouse in support of the Alternative Pension Formula legislation. The bill will finally be signed into law on August 6, 2001, by Governor George Ryan.
2001

Tom Clatfelter hired as Chief Organizer for the local. He was a Union Steward at E & F Distributing for over 30 years prior to joining the staff.
2003

Larry Larson brought in as the Warehouse Business Agent. For several years prior Larry was the Union Steward at Bunn.
Trucking companies Yellow and Roadway join forces under a $966 million dollar merger.
Donley Trucking in Springfield organized bringing an additional 25 members to our local.
Leo Carroll appointed to National Team of Negotiators for National Master Freight contract.
2004
Teamster Bill Wozniak was shot and killed working in the Statehouse as a Secretary of State Security Guard. Bill had been a Teamster for over 18 years. Afterward, the Illinois Legislature proposes but ultimately fails to pass any bills to boost security and equipment for Security Guards.
Teri Hanner hired as Secretary/Titan Operator.
Interstate Bakery Corporation merged Hostess, Dolly Madison, Butternut and Wonderbread companies.
National food distributer Sysco Corp buys out Robert's Food Service.
2005
International Brotherhood of Teamsters disaffiliates with the AFL-CIO and forms the "Change To Win" coalition with six other unions. This new coalition is called the Magnificent 7.
Executive Board purchases 4.5 acres of undeveloped highly visible property next to I-55 to construct a new hall. Local 916 has been located at 2701 N Dirksen since its purchse of land back in 1966.
2006
The Teamsters begin a national campaign to organize UPS Freight (formerly known as Overnight Transportation).
Bunn Capitol was sold to Sysco Corporation.
The City of Springfield Downtown Meter Attendants approach Local 916 about becoming Teamsters. The election is successful, bringing on additional city workers to the local.
North Greene School District Bus Drivers file and successfully become Teamsters.
Interstate Bakery Corporation consisting of Hostess, Dolly Madison, Butternut and Wonder bread sign a national master agreement with the Teamsters.
Dave Robinson brought on as an Organizer and Business Agent in the Construction industry.
2007
The Teamsters successfully organized Crazy Horse Concrete Truck Drivers. Crazy Horse was a non-union company for over forty years.
2008
The first collective bargaining agreement is reached between Crazy Horse Concrete and Teamsters Local 916.
Sale of 2701 N. Dirksen is completed. Local 916 temporarily moves office into Teamsters Joint Council 65's building.
Over 11,200 UPS and Freight Workers at 50 UPS terminals have become Teamsters. On August 12th a National Master Agreement is ratified.
Then Governor Rod Blagojevich announces his move of 150 IDOT's Traffic Safety Division from Springfield to Harrisburg. Shortly thereafter, the Teamsters file a lawsuit against the move.
Members of IDOT's Technical Manager V, Engineering Technician V, Civil Engineer V are organized and become members of Local 916 Professional/Technical group.
MJ Kellner's new $9.3 million state-of-the-art facility in the Interstate 72 Business Park opens. The new address is 5700 International Parkway Drive, Springfield.
Construction begins on new hall at 3361 Cotter Drive, which will change to "Teamster Way." The new hall will feature over 9,000 square feet of office space with two conference rooms, a file room, kitchen, and offices for the staff and business agents.
JP Fyans hired as Legal Counsel for Local 916.
2009
New Governor Pat Quinn announces that he has canceled ex-Governor Blagojevich move of IDOT Traffic Safety Division to Harrisburg.
Construction is complete on the new 1.7 million dollar hall as the staff and business agents move into the new hall located at 3361 Teamster Way.